Kittens Available

Litter announcement:
Four HAPPY, HEALTHY girls born 11/11/11 to Zanara X Katalyst.


Marble: Absolutely exquisite girl in every way.
Stunning pattern & colours (not captured in these pics) .
Fabulous type& temperament and loaded with glitter.
Show quality would make top class future breeder queen.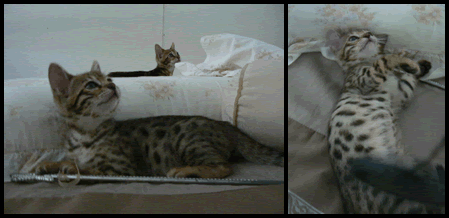 Spotted girl 1. Fabulously spotted starting to rosette,
Intricate shoulder pattern, absolutely NO RIB BARRING,
and spotting continuing down the legs.
PuRRfect temperament…. Would make a reallylovely family pet OR breeder.

Girl 3. Great type, fabulous temperament, wonderful head type,
whited tummy, currently in the grey fuzzy stage. Make great pet or breeder.


Girl 4. Large dark markings on lighterbackground, in raging grey fuzzies at the moment.
Silky soft glittered coat. Nice type girl with wonderful temperament.
Will make great pet or breeder.

Please contact us to reserve your kitten, or if you'd like further information.