On this page we'd like to welcome you inside our cattery. Feel free to look around and remember the jungle cats here are actually very friendly! I hope you enjoy your stay :o)

This is our new cattery ... a work in progress.
The cats have beautiful mountain views & peaceful surroundings.
The cattery captures the morning sun, cool breezes and is sheltered from the hot afternoon sun. I will update photos soon when the cattery & area is completed.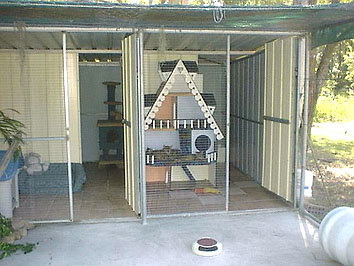 Kitten Apartments

Kid's relaxing in Kitten Kottage